From
http://www.eoshd.com/content/3350/gh2-hack-testing-initial-report-and-how-to-test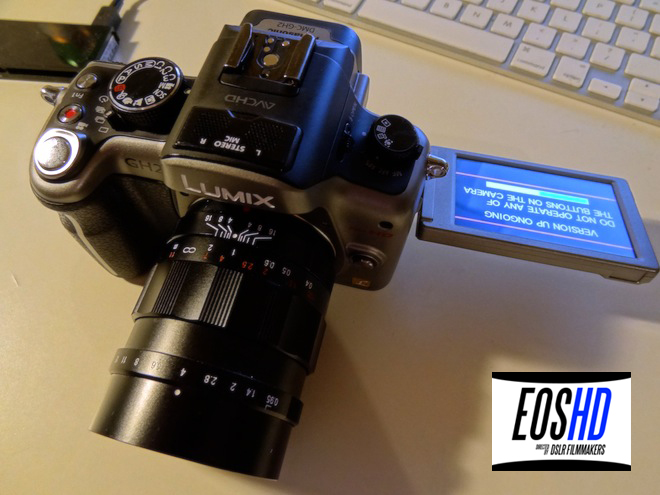 Donate to Vitaliy Kiselev here
Pick up a GH2 body on eBay here
Thanks to a leaked firmware update and Vitaliy Kiselev we now have a GH2 hack to experiment with. It's very early days so don't expect anything drastic yet. The AVCHD encoder is very different to the GH1, so a lot of testing needs to be done before the right parameters and patches are discovered that improve image quality and functionality.
Some of the stuff is however IS working out of the box:
1440×1080 @ 4:3 MJPEG patch is good for 2x anamorphic shooting. It produces true cinemascope 2.35:1, rather than the extremely wide 3.55:1 we get from normal 16:9 1080p
Language patch works (minus Chinese characters)
PAL / NTSC switch in the menu works (although 24p mode remains 24p for now)
30min clip length limit removed (for European PAL cameras)
1080/25p and 1080/60p patches are included but hang the camera – extensive testing to find the right settings is required. There's also patches for audio bitrates, AGC and 720/25p though I haven't had time to try these yet.
How to test
Read Vitaliy's instructions here and then download Stream Parser, the leaked V1.0E firmware and PTools 3.60d. You'll need Windows for this. Mac users can use virtualisation software like Wine Bottler or VMWare.
It is important that the community does it's bit to help Vitaliy and contribute constructively and scientifically to the forum at Personal-View.com. It's best to keep questions and emotions out of the research threads so that it does not distract Vitaliy and testing efforts. By all means ask questions and seek help but do so in the right places.
Here is a good early example of some patch testing – experiment in a systematic way, one setting at a time and report the effect it has on the camera.
It is best not to change too much at once because then you don't know which settings is responsible for the effect you see on the camera. If the camera hangs, or if it suddenly outputs amazing high bitrate video, you won't know what the key setting change was that caused it. You must build up slowly to combining settings. Most of the exciting things will result from a combination of settings but it really helps to first discover what each one does independently.
All in all these are exciting times for GH2 owners.
http://www.eoshd.com/content/3350/gh2-hack-testing-initial-report-and-how-to-test